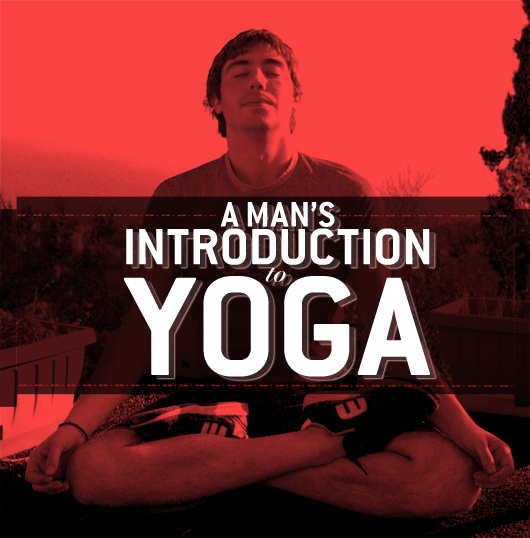 You may have a vision of yoga as being something only ladies do, but the practice of training your body and breathing has incredible benefits for everyone, the manliest of men included. Check out our guy's guide to yoga and see if it's right for you.
Let's be honest. You've thought of doing yoga before. Maybe the idea came and went. Maybe you thought, "What's the big deal?" or perhaps you brushed it off as too religious, overrated, or "feminine". As far as the latter, you should be "man" enough to realize that's a bit silly.
What images come to mind when you think of yoga? Skinny, half-naked Indian men doing headstands? Fit, athletic women in colorful, form-fitting clothing literally bending over backwards? Long-haired, hippie vegans meditating atop their VW buses?
These images may give you the impression that yoga's not for you, but they're not what yoga's all about.
Getting Rid of Ego
In order to try yoga, you don't need to sit lotus-style or start meditating 24/7. You don't need to be the most flexible person in the room, nor should that be what drives you. It's not about who can hold a specific pose the longest or how far you can stretch.
Now that you've checked your ego at the door, I hope I don't confuse you when I say: yoga's all about you. One of the greatest aspects of yoga is that there's a variation for every pose – a way to modify each one to match your exact level of ability. It's all about what's best for you, given what you're capable of and what you're trying to accomplish.
Remember, it's not a competition against others practitioners; however, if you are a competitive man, you can view it as a personal challenge to yourself to dig a bit deeper or go a bit farther with each session.
So the image that comes to mind? It should be of you. A full acknowledgment of who you are in the present moment – your strengths and weaknesses – along with the future prospect of who you strive to become – simply, a better, stronger man.
Sound good so far? Before we move on, let's rewind a bit.
Photo by Lululemon Athletica
What is Yoga?
Yoga is a practice which originated in India thousands of years ago and is still practiced by millions today. Several types of yoga exist; some with methods having been passed down for ages, others created by teachers and popularized more recently.
The yoga we generally see and hear about in Western culture is usually a form of hatha yoga. It's just one of the six branches, also known as paths, of yoga and involves holding asanas, or poses, and doing pranayama, or breathing exercises.
The poses involve holding your arms and legs in various positions, twisting, and sometimes even inversion. You breathe continuously throughout ea...