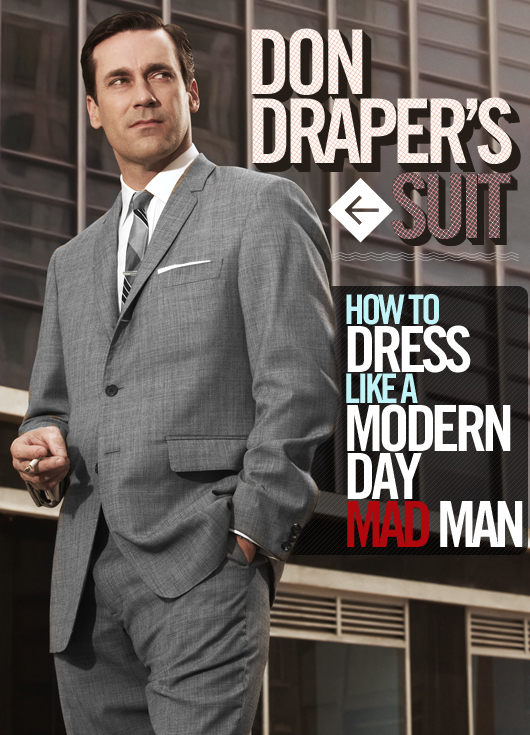 Don Draper may not be the best of gentlemen, but he certainly has great style. With Mad Men Season 4 starting tomorrow, we decided to take a look at getting the look — on the cheap.
Mad Men paints the 60′s as a red-blooded, chauvinistic world full of smoking, affairs, and whisky trays in every decent man's office. While the vices of the show are clearly exaggerated, we've certainly come a long way for the better in our society.
Though if there's one thing every man is envious of when he watches Mad Men it's the style these men exude every day, whether in a board meeting or at a barbecue.
I'm not the first to say it, and I'm not ashamed to repeat it: Don Draper looks damn good in a suit.
Part of this certainly comes from charisma and confidence, but more so it's the attention to detail that's placed in his style. Here at Primer we take a balanced approach to men's fashion. We know the importance of appearance socially and professionally. We want to be kempt and well-dressed, but we don't want to put a lot of extra time or money into it. And we unfortunately grew up in an age when wearing more than a t-shirt or athletic shoes grants you dandy status.
So how do you achieve the air of Draper while not spending a lot of money, extra time, or looking out of place with the under-dressed guys around you?
Don Draper's Suit
The secret to looking like a million bucks may seem rather obvious — wear a suit that fits. Where most guys get this wrong is assuming that the jacket that fits the most off-the-rack is the one that fits the best.
As the saying goes, you want the suit to fit you, not the other way around.
You want to create a slim profile, not a boxy one. Every suit you buy should be brought in to fit your body. In fact, many off-the-rack suits are cut so they can be tailored to fit the buyer, meaning they aren't even intended to be worn as-is. For example, sleeves on many pre-made suits are intentionally long to allow for tailoring. If you buy a jacket where the sleeves fit, it will likely be too small in other areas.
Here are some key things to have your tailor look at:
You'll want to have the waist brought in to achieve a tapered look. This is one of the easiest ways to tell if a man's suit has been tailored for him. Without this being performed, you're almost guaranteed to look like you're wearing a ski jacket.
The bottom of the coat should end around your thumb's knuckle
The shoulders of the suit should create a natural line straight down your arms. Considering this, it's easy to tell if the shoulders are too wide or too narrow.
The sleeves should show about a half inch of your shirt cuff when your arms are straight down.
It's certainly possible to get a great suit off-the-rack and tailored. There's a growing trend o...