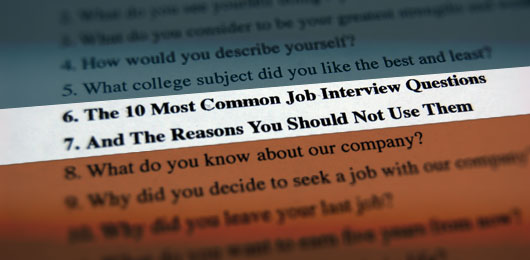 By Fernando M. Tarnogol
We've all employed them. Either because we were beginners and were accustomed to hearing them, so it was easy for us to use them in spite of a better technique to approach the interview. Or because that's the way we learned that a job interview must be conducted. Not only will they not help you make a decision, they can also hinder your ability to make it.
A job interview is like a first date.
The impression you make during the first 10 minutes will determine the rest of the night. The same thing happens when we interview candidates. This is the analogy made by Professor Allen Huffcutt , who has studied job interviews for more than 20 years, when he was interviewed by Ori Brafman for his book " Sway: The Irresistible Pull of Irrational Behavior ".
First impressions are what matters. If the applicant fits a specific physical profile (which varies among cultures), if both parties can have a nice conversation, if we hear what we want or expect to hear; then we consider the interview a success and proceed to hiring the candidate. Malcolm Gladwell gives a perfect example of how we hire for reasons that have nothing to do with logic or reason in his bestseller book " Blink: The Power of Thinking Without Thinking ": Fortune 500 CEOs Are Mostly Tall People (check out question #4). Invisible, sometimes irrational behavior, often leads us to making regrettable decisions.
These are the 10 standard job interview questions compiled by Professor Huffcutt. They might have worked a couple of years ago. Nowadays they are just useless clichés.
1. Why should I hire you?
2. What do you see yourself doing 5 years from now?
3. What do you consider to be your greatest strengths and weaknesses?
4. How would you describe yourself?
5. What college subject did you like the best and least?
6. What do you know about our company?
7. Why did you decide to seek a job with our company?
8. Why did you leave your last job?
9. What do you want to earn five years from now?
10.What do you really want to do in life?
The questions center around specific themes.
First Group: 1, 3 , 4
The first group of questions focuses on the applicant's self perception, in the most naive possible way. Would you answer "I usually get too drunk at night and end up being late for work" when asked about your weaknesses? No one mentally sane enough would.
People are most likely to say something that doesn't portray them in an unfavorable light, such as "I worry too much about work," or "I make mistakes because I work too fast." For boxed questions, boxed answers.
Let's continue. "How would you describe yourself?" Let me guess, team player, proactive, goal oriented… we've all heard or said that before right? What else do managers expect to hear after shooting that question? Answering "I'm a professional slacker" hasn't gotten anyone any jobs.
Why did you decide to seek a job with our company? "Beca...